At the beginning of the month. Let's have a menu of grilled salmon teriyaki sauce for a meal. Comes with how to make teriyaki sauce Stir until cooked. Then pour teriyaki sauce over it. Eat with hot steamed rice.
Ingredients Grilled Salmon Teriyaki Sauce.
Salmon fillet with skin (weighs about 150-200 grams) 1 piece
3 tbsp Japanese soy sauce
2.5 tablespoons of sake
3 tbsp mirin
1 tbsp granulated sugar
Boiled vegetables of your choice (such as carrots, broccoli, asparagus, etc.)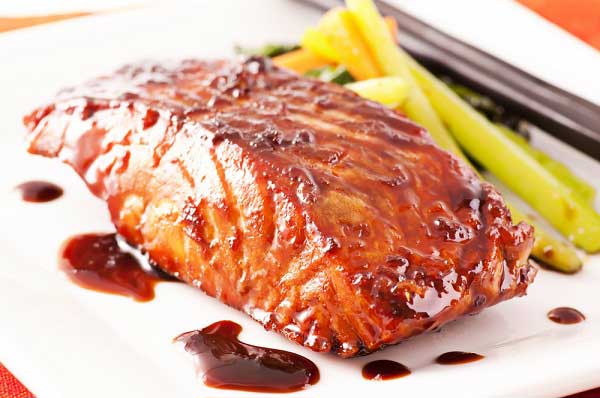 How to make Grilled Salmon Teriyaki Sauce.
1. Put Japanese soy sauce, sake, mirin and sugar in the pot, bring to a boil, stir until the sugar dissolves, remove from the heat and let it cool until ready.
2. Marinate salmon fillets with teriyaki sauce mixture. Leave for about 30 minutes. When the time is up, blot the fish dry and prepare.
3. Put the remaining sauce from the marinated fish into the pot, bring to a boil, add about 2 teaspoons of sugar, simmer until boiling, remove from the heat and prepare.
4. Put the pan for grilling on the fire. Place the fish fillets on the pan. Spread the prepared teriyaki sauce until cooked on both sides. Ladle onto a plate and top with the remaining teriyaki sauce. Garnish with blanched vegetables as you like.